Today sees the launch of the brand-new, and long-awaited, Specialized Levo SL. We were fortunate enough to get our hands on a pre-release model and take it to our favourite local bike park for a rip down some descents and a blast up some climbs. Specialized says it's all about the ride, so we couldn't wait to get stuck in to see if this latest generation lived up to that billing.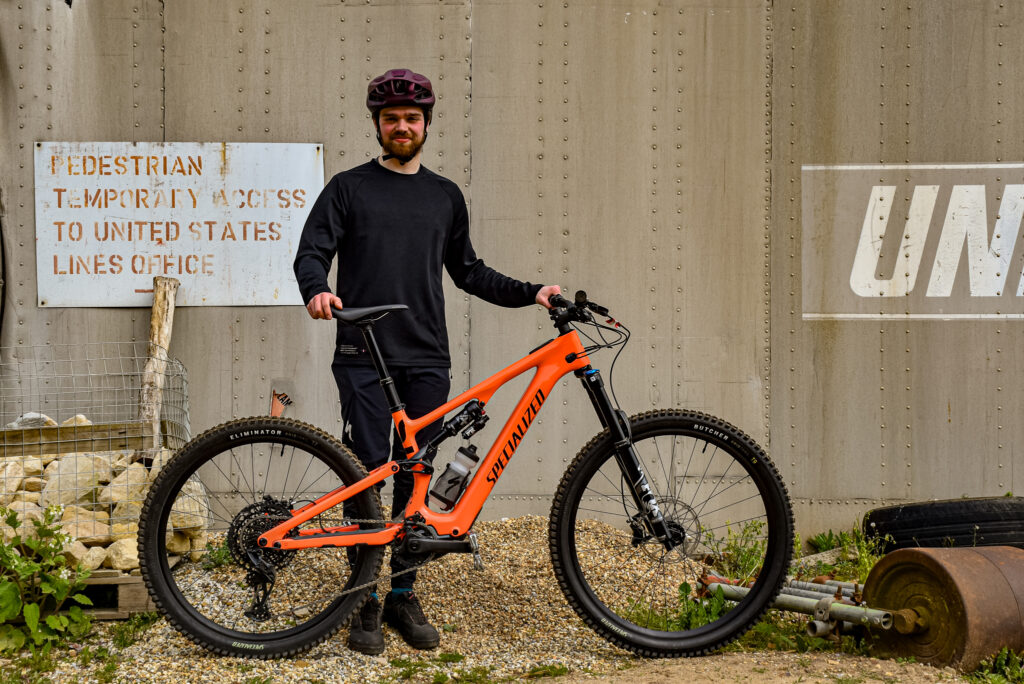 Alex and mountain bikes go hand in hand, with a riding history spanning some 13 years from cross country to downhill to enduro, Alex has covered most bases when it comes to shredding trails. Working in our Chelmsford store, he also gets to spend all-day fantasising over the minutest of details from headtube angles to bottom bracket heights, so we'd say he's more than qualified to chat bikes.
So, the Bike. Levo SL 2 – What's New?
This latest generation Levo SL hasn't only gone through some arguably much-needed geometry updates, but it also has a new and improved SL 1.2 motor within the frame. Featuring 43% more torque (50nm vs 35nm) and 33% more power (320w vs 240w) than the previous generation SL motor, the new SL 1.2 motor has made the SL option pack more of a punch than ever before. Not just addressing the torque and power figures, Specialized has also managed to significantly reduce the noise produced by the SL motor. By using an updated gearbox design with a new two-piece housing, the noise of the motor has been reduced by 34-45% compared to the previous iteration.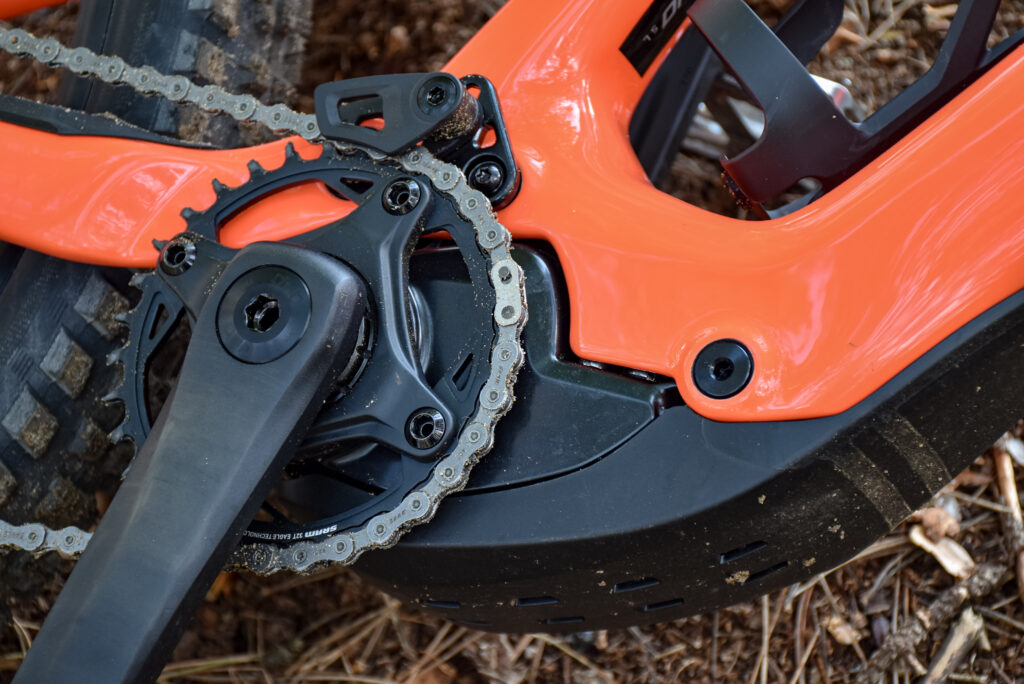 As is the trend with higher-end Specialized E-MTB bikes of late, the new Levo SL benefits from the Mastermind TCU. The overall range is also something that has increased, with a ride time of over 4 hours now being achievable. As with all other SL models in Specialized's range, the new Levo SL is compatible with the Range Extender option, increasing the range of the bike by around 50% through the use of an external 160wh battery (on top of the 320w internal battery). Oh, and the new Levo SL is a mullet setup bike too! This was my first time riding a 29er front wheel and 27.5 rear wheel, it definitely provided a more playful and agile feeling.
The new Levo SL takes its geometry from the Trail Bike of the Year winning Stumpjumper Evo and utilizes Specialized's S-Sizing. Sharing the versatile geometry adjustments found on the SJ Evo, the Levo SL has 3 headset angle options, 63, 64.25 and 65.5, and has a BB height adjustment of +/- 5mm through a flip chip on the rear shock linkage. The rear triangle also has a dropout for the option to run the bike as a full 29, should you wish to move away from the stock 'Mullet' setup. Although, based on my experience – I would keep it as it comes!
What Was I Riding? A Deeper Dive into the Tech
For just one day only, I had the Comp Carbon model in the Levo SL family of bikes. Sitting at the bottom of the range, priced at £7000, it may make you gasp before you take a closer look. The component choices are pretty sensible rather than standout, offering reliable usability but still offering performance complementing the bike's intentions. Available in two colours, I had the Gloss Blaze/Black/Silverdust which looked stunning out on the trails, standing out from any angle with a high gloss finish.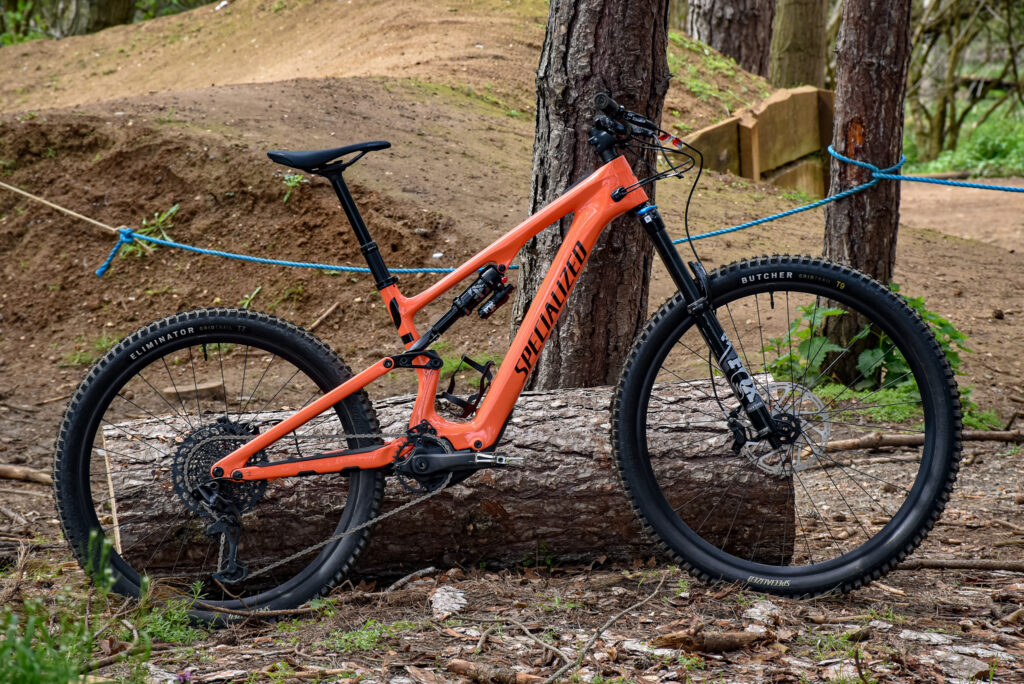 With Fox supplying the suspension for the bike in the form of the Float 36 Rhythm fork and Float X Performance rear shock, quality was never really in doubt on this front. With the fork being easy to set up with its Grip damper and independent low-speed rebound dial, optimising this based on your needs won't take long. The shock is a similar story, although not as simple. With a lockout for climbing and a single rebound dial, set up again was relatively straightforward. Although I did find the shock quite linear and even at firmer than suggested sag, the shock used all its travel on some higher speed berms and compressions. Due to this, I would probably recommend putting a couple of volume spacers in the shock to help with this and to avoid pedal strikes on more chunky terrain. This bike would also definitely benefit from the low-speed compression dial found on the higher-end Float X models.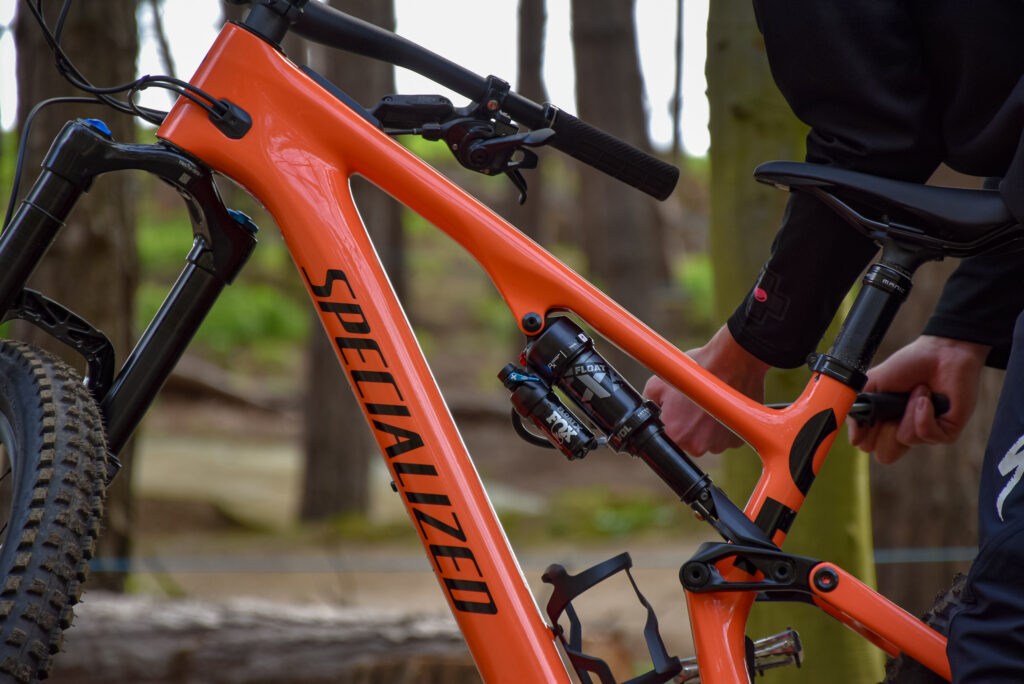 The SRAM GX drive train is as good of a performer in my opinion as the more expensive X01 option. Yes, it may not have as nice of a shifter or as fancy graphics, but the overall performance of the groupset is much of a much. The brakes are also SRAM, this time the Code RS, a relatively easy brake to set up and one that is powerful with impressive modulation when working correctly. They can, however, be fairly problematic and in the past, I have had reliability issues with code brakes, although the ones on this bike remained consistent. I did have to run the levers a bit further out than I would have liked to have a firm bite point.
Star Of The Show
The rest of the components on this bike, including the dropper post, wheels, cranks and are a reliable option and ones that will perform up to the needs of the bike without being overly special. The standout for me though was the Specialized tyres. The combination of the tacky and predictable Butcher T9 29″ front tyre and faster rolling Eliminator T7 27.5″ rear tyre, really complimented this bike and were easy to set up tubeless. I actually enjoyed them that much, I think I'll switch up to this combo on my own Stumpjumper!
Trail Riding Fun – Both Up and Down
Yes, this is an E-bike and the climbing characteristics may not be as important as on a standard bike, but I would still be a fool to say this one doesn't climb very well. Even with the motor switched off, it doesn't feel cumbersome and consume too much energy to pedal uphill. With the motor engaged and when mixed with the poppy and playful suspension characteristics, this bike makes climbing very fun. You even find yourself looking for jumps and little stump hops on the climbs!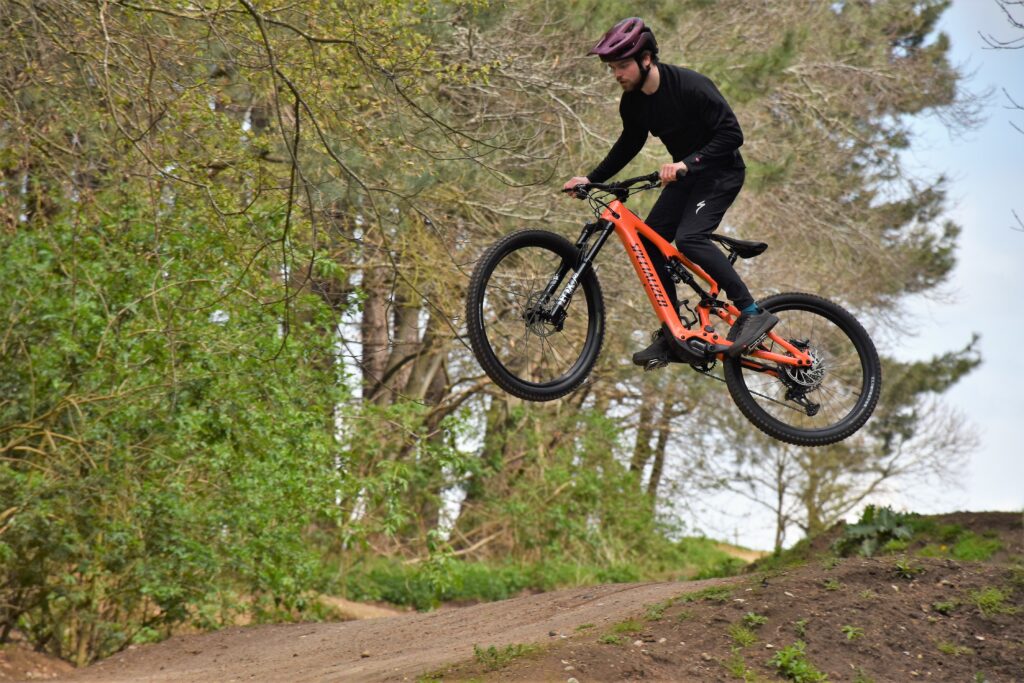 With its 160/150mm of travel, the Levo SL is a super capable all-rounder. From fast flowy jump tracks to tight and twisty tech, this bike is at home on it all. While maybe not as surefooted as the longer travel Kenevo SL on steep fast downhill-style tracks, the Levo SL can definitely hold its own on a wide variety of terrain. The ride is a very playful and agile one, with tons of pop-off lips of jumps and the ability to sling around tight berms with ease = this is where I found the mullet 27.5″ rear wheel coming to the fore.
My Final Say – It IS All About The Ride
After a few years of competitors catching up and leapfrogging, Specialized have bought the Levo SL back to the forefront of lightweight E-MTB bikes with this latest release. The chassis is very balanced which oozes confidence when riding and creates a very easy bike to ride, and one you feel comfortable on straight away, which will have you grinning ear to ear.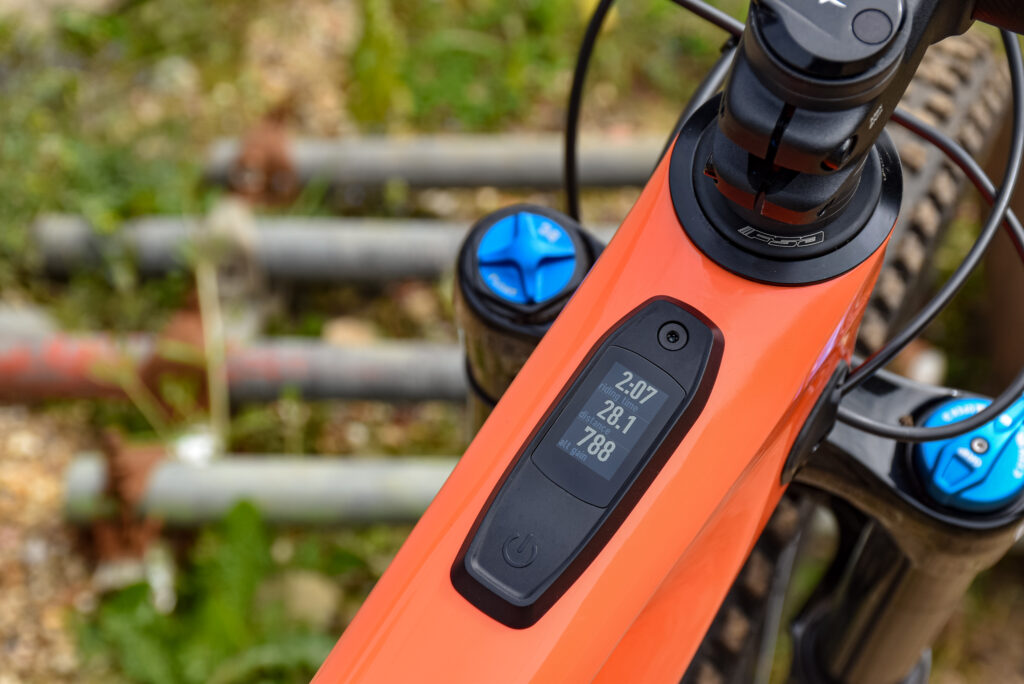 This bike is so playful, you genuinely forget you are on an E-Bike when flowing down trails! I certainly did over the two hours of riding I completed, notching up 28km and neigh on 800m of climbing in the legs.
The additional torque and power really are noticeable and take this style of the bike up a level. All in all, with a mix of Stumpjumper Evo geometry, improved motor support, a mullet wheel setup, and a very playful suspension design, I think Specialized is on for a winner with this bike.